100% Price Guarantee
Shop With Confidence. We have 5 Stars Rating on Low Prices, Quality, and Fast Service.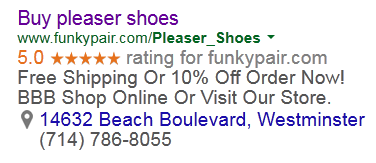 We know you have better things to do when you're busy planning your wedding, holiday or just simply for work, than worry about whether you could have saved five dollars on a pair of sexy shoes, exotic lingerie, etc.. That's why . . . .

FUNky Pair guarantee you the lowest prices with 100% Price Protection!

We negotiate the lowest pricing with all of the manufacturers and vendors we carry. Brands like Pleaser Shoes, Ellie Shoes, Demonia Shoes, Devious Fetish Shoes, Luscious USA, Hustler Lingerie, Leg Avenue Lingerie and let's not forget our high end Adult Halloween Costumes.

And we absolutely refuse to be undersold.

If you find an item elsewhere for a lower price, To take advantage of our low price guarantee, you must notify us of a lower price on the same day your order is placed. You will be eligible for our "100% price protection" program.

Here's how it works:
Price match is only valid on online orders.

The item must be the identical product, color, size, packaging, manufacturer, etc. The price you wish us to match must be verifiable on the Internet or through a printed advertisement. The competitor's advertisement must be current and the product must be in stock.

FUNky Pair will only match prices on items made by the same manufacturer. "Knock-off" or counterfeit items of designer manufacturers do not count. For example, if it is a Leg Avenue Lingerie brand, it must be authentic, not just "similar" as many of the knock-off items sold on the internet.

If you ask us to match a price, the competitor's shipping and handling charges and sales tax, if applicable, must be taken into account when we calculate the competitor's price.
We will only price match competitor pricings from online stores. EBay and Amazon are not considered competitors and we will not price match.

Example:
| | |
| --- | --- |
| FUNky Pairs price (+S&H): | $100.00 |
| Competitor price (+S&H): | $95.00 |
| Difference: | $5.00 |
| Total Refund: | $5.00 |


Price adjustments are limited to one price match per item within the 30 day period. Competitors coupons or promotions for first time or one time use will be considered non-verifiable and therefore not accepted for the low price guarantee. Competitive items must be in stock

Shipments to California are subject to sales tax and will not be included as part of the price match calculation. NOTE: Please allow 7-10 business days following your price match request for your refund to be processed. Price matches will not be honored on "Going out of business," "Liquidation Sales", companies in distress or Sale Section Items.

FUNky Pair reserves the right to deny any price match on an item that is not in stock with a competitor or does not meet the criteria of our price match policy.